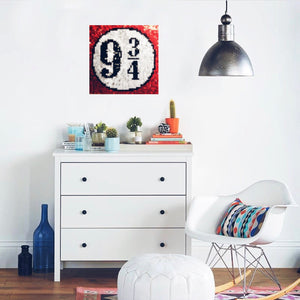 Pix Perfect
DIY Harry Potter Kit- 2'x2'
Sale price Price $100.00 Regular price $0.00
This Kit will help you create this amazing 2' x 2' Harry Potter "Platform 9 ¾" masterpiece as created by Pix Perfect owner & artist; Lisa. 
Includes: 
4 panels
4 bags of pegs
2,304 sequin pixels (extras included)
Color-coded and named color map to create this piece
20 mounting screws
Once panels are assembled with the sequin pixels, you will be ready to hang your creation.  You may choose to be creative on how you mount your panels if you do not want to hang them directly to your walls.  i.e. A canvas reinforced with additional wood so the panels can be screwed in.   This piece as shown in the photographs was mounted on a reinforced canvas purchased at a local hobby store.